You are here
The Last: A Novel (Paperback)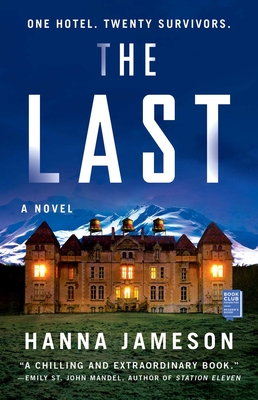 $17.00

Usually Ships in 1-5 Days
Description
---
This propulsive post-apocalyptic thriller "in which Agatha Christie's And Then There Were None collides with Stephen King's The Shining" (NPR) follows a group of survivors stranded at a hotel as the world descends into nuclear war and the body of a young girl is discovered in one of the hotel's water tanks.

Jon thought he had all the time in the world to respond to his wife's text message: I miss you so much. I feel bad about how we left it. Love you. But as he's waiting in the lobby of the L'Hotel Sixieme in Switzerland after an academic conference, still mulling over how to respond to his wife, he receives a string of horrifying push notifications. Washington, DC, has been hit with a nuclear bomb, then New York, then London, and finally Berlin. That's all he knows before news outlets and social media goes black—and before the clouds on the horizon turn orange.

Two months later, there are twenty survivors holed up at the hotel, a place already tainted by its strange history of suicides and murders. Jon and the rest try to maintain some semblance of civilization. But when he goes up to the roof to investigate the hotel's worsening water quality, he is shocked to discover the body of a young girl floating in one of the tanks, and is faced with the terrifying possibility that there might be a killer among the group.

As supplies dwindle and tensions rise, Jon becomes obsessed with discovering the truth behind the girl's death. In this "brilliantly executed...chilling and extraordinary" post-apocalyptic mystery, "the questions Jameson poses—who will be with you at the end of the world, and what kind of person will you be?—are as haunting as the plot itself." (Emily St. John Mandel, nationally bestselling author of Station Eleven).
About the Author
---
Hanna Jameson is the author of the London Underground mystery series the first of which, Something You Are, was nominated for a CWA Dagger Award. She lives in London.
Praise For…
---
"A brilliantly executed novel…the questions Jameson poses—who will be with you at the end of the world, and what kind of person will you be?—are as haunting as the plot itself. This is a chilling and extraordinary book."
— Emily St. John Mandel, bestselling author of Station Eleven

"An unusual thriller in which Agatha Christie's And Then There Were None collides with Stephen King's The Shining and Nevil Shute's apocalyptic chestnut On The Beach. . . . The Last tells a story readers will get lost in."
— Maureen Corrigan, NPR's Fresh Air

"A clever, original, scarily plausible white-knuckle read."
— Erin Kelly, author of He Said/She Said

"The Last is impossible to put down. Nuclear apocalypse meets murder mystery, with an amazing cast of characters. It's Stephen King meets Agatha Christie, in this fantastic and highly original novel that I'll be recommending to readers for a long time to come. I loved every second of it! This is *the* book of 2019."
— Luca Vesta, author of Dead Gone

"Ms. Jameson writes about the end of the world with the authenticity of one who has witnessed it and come back to tell the tale. Her characters are complex and compelling, and she depicts group and survivor psychology with deft and empathetic detail. The plot is gripping, and thoroughly and frighteningly believable. I could not put this book down."
— Jennie Melamed, author of Gather the Daughters

"Dark, original, compelling."
— CJ Tudor, author of The Chalk Man

"Reminiscent of The Shining. Jameson delivers an eerie and unsettling tale, made even more so by its frequent mundanity. . . . Propulsive reading. . . . A thoughtful page-turning post-apocalyptic tale."
— Kirkus Reviews

"[An] engrossing post-apocalyptic psychological thriller. . . . Jameson asks powerful questions about fear, community, and self-interest while exploring human interactions that range wildly from the tender to the brutal to the purely mercenary. She succeeds in evoking a palpable, immanent sense of tension in a story that's equal parts drama and locked-room murder mystery."
— Publishers Weekly

"This genre-bending novel neatly embraces dystopian fiction and murder mystery, with the Omega Man starkness of the former and the requisite twists and turns of the latter."
— BookPage, Top Pick

"Part mystery, part apocalyptic, The Last is a mind-bending reading experience. Jameson writes a quiet kind of suspense, where tension ebbs-and-flows between mild discomfort and heart-pounding terror."
— The Brazen Bull